2017 Award Winners:
Experience/Development Presentation
Paddle for Pints - A collaborative of 18 businesses and organizations in the greater Traverse City Area.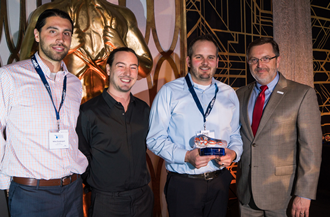 Paddle for Pints is a Brewery Pub Paddle on Traverse City's Boardman Lake & River and the West Bay. Participants meet at the Filling Station Microbrewery and, at designated times, 100 participants launch for an urban paddle through downtown Traverse City. The experience takes participants along a guided course and they visit 6 breweries along the way. Paddle for Pints has become one of Traverse City's biggest summer events drawing people from all over Michigan and 23 states. The event began in 2013 with two event dates of 60 people each. Last year, the event consisted of 27 event dates totaling 4,800 participants which sold out in 47 minutes when the dates were announced. The continued innovative collaboration between the local partners is what has sustained the growth and demand of the event and created another sellout year for 2017.
Non-Traditional Partnership:
Up North Trails – A collaboration of: Top of Michigan Trails Council, Northeast Michigan Council of Governments, Networks Northwest Land Information Access Association, Traverse Area Recreational and Transportation Trails, Inc., Cheboygan County, Michigan Department of Natural Resources, Northern Lakes Economic Alliance, Flight Path Creative, and 21 County Representatives.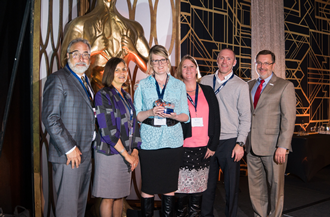 The Up North Trails Collaborative brings together regional stakeholders to support and enhance economic development opportunities by developing a comprehensive trail marketing initiative in northern lower Michigan. The common goal of this collaborative is to promote all the trail systems in a 21-county area to create further opportunities for trail enthusiasts. A grand total of 5,358 miles of trail were identified and mapped. After the massive data collection was complete, the information was presented through a robust trail mapping website "upnorthtrails.org". To take the initiative one step further, 5 pilot communities were chosen to undergo a Trail Town planning process to capitalize on the benefit of trail tourism. The process included consistently branded trailhead kiosk signs, trail guides, trailblazer signs and community gateway signs. The collaboration is truly a unique and geographically wide-ranging effort, resulting in a promotional effort throughout northern Michigan.
Marketing Partnership:
Lake Huron Discovery Tour- A collaboration of Michigan Arts & Culture Northeast, Besser Museum for Northeast Michigan, Northeast Michigan Council of Governments/US 23 Heritage Route, Community Foundation for Northeast Michigan, Thunder Bay National Marine Sanctuary and Mitten Women Productions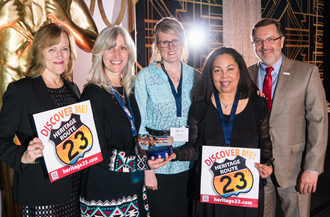 In 2015, a collaboration of individuals, communities, organizations, agencies and businesses contributed over 4,000 volunteer hours to plan and execute a tourism marketing project called Lake Huron Discovery Tour during the fall color season. The tour consisted of a four-day event weekend focused along the US23 Heritage Route and the shoreline of Lake Huron in northeast Michigan. The self- guided tour opportunity included a collection of natural and cultural attractions and over 100 special events for the weekend. The tour was promoted through user friendly, collaborative tools with consistent branding and messaging. This uniform marketing approach promoted this broad area as a regional destination resulting in sold out hotels and visitors being able to discover new experiences along coastal Lake Huron.
2016 Award Winners:
Experience/Development Presentation
Autopalooza – A collaborative of the MotorCities National Heritage Area, the Detroit Metro CVB, Don Nicholson Enterprises and Travel Michigan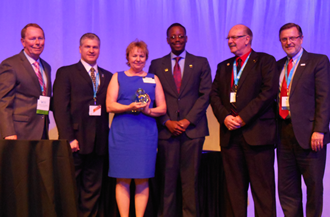 Autopalooza was created as a collaboration to promote the unique automotive events which occur across southeast Michigan during the summer. The promotion all of these events together, connects the culture of auto heritage throughout the region and presents the events in a new and compelling way.

Autopalooza features 18 events and the reach spreads from the downriver Detroit area, to the Woodward Dream Cruise, the Pure Michigan 400, and to Lansing with the Car Capitol Celebration. It is estimated that through the various Autopalooza events, over 3 million visitors and residents are reached and linked to Michigan's automotive heritage and culture.


Non-Traditional Partnership:

Cell Block 7 – A collaboration with Experience Jackson, the Michigan Department of Corrections and the Ella Sharpe Museum.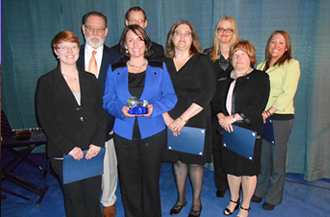 For over a century, Jackson has been home to Michigan's largest prison. Over time, there had been conversations about turning this negative perception in Jackson into a positive asset. Recently, an innovative collaboration came together and within 19 months, a new attraction was created…Cell Block 7.
The partnership between Experience Jackson and the Michigan Department of Corrections is unprecedented by bringing a local non-profit's vision for a unique tourism experience together with a state department's goal of improving the perception and image of the corrections system.
While both parties agreed a museum in block 7 of the prison could work, the major stumbling block centered on who would operate the facility if it was developed. Experience Jackson reached out to the Ella Sharp Museum, a nationally accredited community museum and they agreed to operate the facility.
Michigan's tourism industry can now boast of having the only prison museum in the country that is located within an operating prison complex which thousands of visitors have now experienced.
Non-Traditional Partnership:
Michigan Cares for Tourism- A collaboration of the Department of Hospitality & Tourism Management-Grand Valley State University, MI Department of Natural Resources, Indian Trails and DRIVEN – Modern Media Group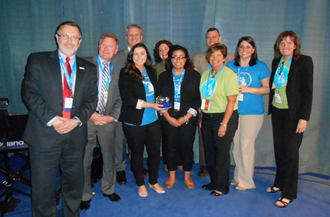 Michigan Cares for Tourism is a 100% volunteer, 100% give back partnership between Michigan tourism organizations which come together to help restore Michigan's historic attractions, learn about a Michigan tourism community, and network across industry segments to ultimately enhance the visitor experience.
In their first two years, Michigan Cares has engaged 890 tourism professionals as volunteers at the four Michigan historic attractions that have hosted restoration and clean-up efforts.

The Governor's Awards for Innovative Tourism Collaboration were announced in 2008 by the Michigan Travel Commission as a result of the Travel Industry's Strategic Plan and were first presented during a special awards ceremony at the 2009 Michigan Tourism Conference. Since 2011, the Tourism Industry Coalition of Michigan (TICOM) has coordinated the awards process.